The Papers have been described as 'Political Popsters with a Rock Reggae calling card' using flamethower lyrics to get their message and their music out there.  This band really do want to change the world, they always have. The new single 'In Vienna' is a track that takes a walk through the widd side of love in a cultural them park. The new album 'Paintbox' features 16 tracks aimed at upending the table of sicko rich, fawning celebrities, greedy bankers, poisonous politicians and everyone else who takes selfishness as their badge and hatred as their way of life. Make no mistake this is no fly by night outfit. The Papers started out in 1979 and they're still out there. The band wanted to do two things: make the world fairer, safer, and more sustainable and have some fun on the way. In their view, the world is a mess and getting worse - an impending third world war using nukes and a sackful  of new planet sized problems: environmental issues, corruption in every direction and nationalistic drum banging in every quarter. On top of that the political establishment and the banks carry on regardless. Time for a big change. 
Not only a new 16 track album. 'Paintbox' (NeonRock) there are many new tracks including a remix of 'The Only One I See Is Me'. The album is a manifesto for a better world. Tracks such as 'Live Your Dreams' featuring Barrack Obama, 'Paintbox' - about meddling politicians, 'Cowgirl Kiss' - about over medication and Global Warning - a swipe at Trumpism.    
The Papers music is unique, drawing on the love in Reggae, the energy of Rock and the fun in Pop.  Our views are uncompromising. Our approach is love the world and enjoy your life. Live Your Dreams!
The band are: 
Twin brothers John Fitzsimons: Lead vocals, guitar
and
Mike (Harry) Fitzsimons: bass, backing vocals
Norman Marsh: Drums
Rob Bright: Lead guitar, backing vocals
Based in Brighton UK, the home of happy people and strong views
The Papers new line up, gigs and tunes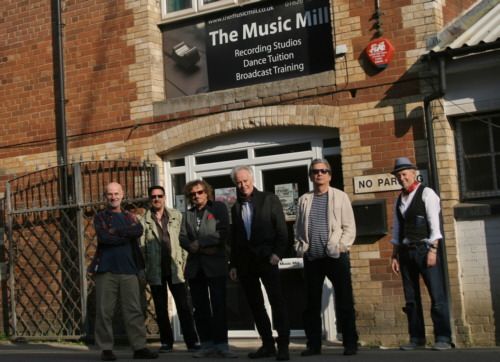 We welcome two new members to the band, Rob Bright on lead guitar and Dexy D'Angelo on trumpet. Check the calendar for live dates. In the pic is Richard Digby Smith our engineer at The Music Mill.
New album 'Paintbox' features 16 tracks including 'Global Warning' a swipe at Trump,  'Live Your Dreams' a pop reggae tune about making freedom happen, 'The Rhythm Of Life' a song about equality and sharing and 'No Wonder' a song about the reasons for helping refugees rather than turning our backs on them. More on the way! stay tuned.
See you out there!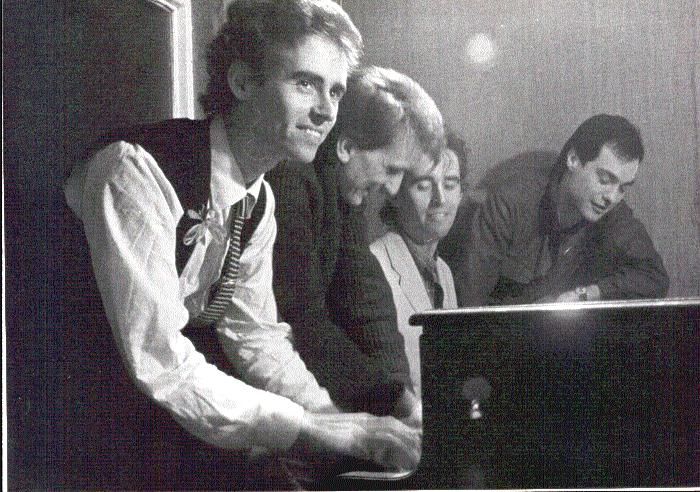 John Fitzsimons - lead vocals, guitar, writer
John Wilkinson - lead guitar, keyboards, backing vocals, writer
Mike Fitzsimons - bass, backing vocals
Norman Marsh - drums
The Papers Story 1979 - to date
The Papers were based in Brixton South London. The band oscillated between the music scenes in Brixton and Deptford Crossfields estate – the home of Dire Straits, Squeeze and many other fine bands. The scene was agitated, uncompromising, exhilarating - ripe for political protest and full of invention and unstoppable musical carnage. In the middle of this The Papers emerged with their strident tough-talking explosion of challenging agit-pop. Twin brothers John and Mike Fitzsimons were born in Orpington, Kent, UK. The sons of Irish emigrants they formed The Papers with John Wilkinson and Norman Marsh after years playing the clubs in London.. Within a year The Papers were recording their first single with Tony Taverner(producer with 5 Star) at Maison Rouge Studios in Fulham, London(owned by Ian Anderson from Jethro Tull) . Panache Music signed the band for publishing and produced the first two singles. The first, 'How Many More' featured the then US president Ronald Reagan (probably the world's first 'sample'!). This single gained the band the reputation they wanted – fun agit pop reggae. The single rose to number three in the indie charts and was played on national BBC Radio 1. They were playing all over London and headlining major festivals. The bands journo-pop credentials were becoming very well known and CND's No Nuke Music booked them for their big London gigs. The tour followed – Cardiff, Exeter, Bristol and Glastonbury then back in time to play two sell out London shows. Journo Paul Strange from Melody Maker wrote a several great reviews. Elton John's producer Gus Dudgeon recording the band live at the east London Polytechnic. The follow up single 'Reggae On The Radio' took the band further into the pop mainstream. The record has appeared on compilations since: Heat from the Streets and British SKA. The band expanded the line up to include sax (Bernie Hagley of Vanity Fair), vocals (Jenny Gerathy) and percussion (Barry Lines). In 1984 they released a third single 'The Only One I See', an anti war epic recorded at Mekon studios with Rob Doran (Hard Corps). Then the band went their separate ways. Mike joined the Piranhas in Brighton,John went west and played with Simon Crowe from the Boomtown Rats. In 1999 John re-engineered the unreleased recordings and issued 'Roxy Plays The Wild Card' - an 11 track album. Following the emergence of the new wave of British Bands such as Hard Fi, Futureheads and Bloc Party it was decided to digitally re-master and re-release some of the The Papers material as anew album; -Fahrenheit In A Centigrade World. This is still available from CD Baby and on iTunes. Now It's 2015 and they are back with new songs and a new line up! The new single, Live Your Dreams, is released and of course it features one of the great political heroes of the new century, Barak Obama.  If you didn't catch them first time around, now is the time. The new album 'Paintbox' (NeonRock) is released get it online or stream the tracks on your favourite site. 
The Papers - History - Politics and Pop
The Papers were formed in 1979. We wanted to change the world - fast. At that time the world was a mess, Oh man we're talking about impending third world war using nukes! And there was a whole bagful of new planet problems - environmental issues - nuclear power plants that didn't work and went bang – Chernobyl, Three Mile Island. On top of that no one seemed to care – there was the new pre-occupation with consumerism and celebrity - what is that stuff??? have we all lost our minds???, Yeah we did not like Thatcher or Reagan - they were destructive assholes - they ended social cohesiveness and took a meat clever to civilised society –  the usual septic vision - make money who cares who gets hurt!. The Papers stood for anything but this crap, and used contemporary pop music to incite their audience to take these issues more seriously - and to have some fun - after all what is life for?
The Papers were originally based in Brixton South London, the home of much musical carnage and wholesome partying. From 2006 we're basing the band in Brighton, on the south coast of the UK. Now when it comes to a party town you wont find much to beat Brighton, but it is also a place of tolerance, debate, creativity, music, love, new ideas and political mash ups - just perfect – and Mike (harry) our bass player lives there.
The MUSIC – Twelve original tracks are featured on the 2006 CD 'Fahrenheit In A Centigrade World'.  This includes the controversial debut single How Many More (For The Third World War) and Hello Oblivion, tracks that were set against a backdrop of cold war politics that was spiralling out of control. Reggae on the Radio - a comedic plot about police relations within the black communities, Miracle and Spacer highlighted the development of the 'consumer is king' culture - make anything they want and sell it - hang the consequences. Android and Telephone poke fun at the growing artificial nature of human relations – where has the love gone?? . Dead Mans Shoes points to the futility of 9-5 sheep like career ambitions – that can't be anybodies dream??? And there's a ton more and a new set of Brighton musicians to write the new material and perform it live.
So what's happened since then?
As ever the world didn't quite implode/explode and some good stuff happened as well as bad. However it came close and today many would say its getting worse. Perhaps the threat of a world war has receded, perhaps not but now we have terrorism writ large on every street corner. Violence and political wrangling in the Middle East and North East Africa is just appalling. Global economies are growing faster than ever, consumerism is off the rails, environmental issues are better understood but little has been done despite increasing disasters both in scale and impact. Humanity still finds it hard to get along with each other on the basis of politics, religion, economics, race, gender and sexuality. But it is not all doom. There are some good folks out there – Friends of The Earth and Greenpeace and the Campaign for Nuclear Disarmament and many other organisations and some international politicians that are trying to bring a new balance to this fragile world.
The Papers music is unique uncompromising and committed. Has it dated since the 1980s? You will find synergies with todays issues, some frighteningly so.  New material is on the way so climb aboard. Time to stop reading and start listening.